Rayva Launches Three New Programs to Support Dealer Channel
Nov 15 2018
news
He designed his first theater more than 25 years ago. Since then he has designed.
Recent Post
Vincent Bruno Appointed Rayva CEO to Drive the Growth Trajectory and Success of Rayva's Business Model
Bruno's vision for the Consumer Electronics industry and ties to the design/build and custom integration communities position him to lead Rayva to its next stage of growth
New York, NY (August 29, 2018) Vincent Bruno, industry icon of the Consumer Electronics industry has joined as CEO of Rayva, the only supplier of engineered and fully customizable turnkey home theaters.  Bruno has been with Rayva since its inception.  He has been working closely with Founder Theo Kalomirakis, President George Walter and the entire Rayva team.  Bruno will become CEO of Rayva effective September 1, 2018.
Bruno has been on the Rayva Board of Directors since June 2017. The decision to join Rayva as CEO was a logical progression of his role with the Company and an offer he couldn't resist given his passion for Rayva's mission and vision, and his in-depth knowledge of the industry.
"It's a privilege to be working with Theo Kalomirakis, George Walter, and the entire Rayva team," says Bruno. "It's terrific to be part of a team dedicated to the growth of the Consumer Electronics industry.  Rayva is committed to delivering significant profit opportunities to our Rayva dealers and exceptional home theater experiences to their homeowner clients."
Bruno Brings Decades of Executive Experience to his Role at Rayva
Bruno has held leadership positions with Crestron, VCOM, and CEDIA, where, as CEO he rejuvenated the Association through aggressive marketing efforts.  Bruno brought energy and passion to the CEDIA organization.  Global integration, the sale of CEDIA Expo to Emerald Expositions, and the new headquarters are all big projects completed under his leadership at CEDIA.  Most recently, Bruno worked as President of the AlltecPro division of VCOM.
Close Ties in the Design/Build and Custom Integration Communities
Bruno's close relationships in the design/build community coupled with his passion for helping technology integration businesses to grow and succeed make Rayva the perfect next step for Bruno.
"A Rayva home theater brings the whole family together in an intimate environment that allows them to enjoy watching their favorite movies, television shows, sports, concerts, and playing video games together," he says.
Rayva's complete solutions provide dealers, designers, architects, and home builders with a variety of engineered home theater packages which allow dealers to either choose their own equipment that meets Rayva's specifications or leverage Rayva's extensive industry partnerships to select other product lines. The business model gives dealers a simplified, profitable approach to selling home theaters.
The model resonates with Bruno, who says, "Our team brilliantly provides a combination of technology, engineering, acoustics, and designs to guarantee a unique home entertainment experience."
Creative Ideas to Promote an Innovative Business Model for Home Theater Sales and Integration
Bruno as CEO will spearhead promotions and marketing initiatives to ensure that builders, designers, architects, and technology integrators understand the tremendous benefits and profit opportunities of Rayva's complete solutions.
"Families that own a Rayva Home Theater enjoy an exceptional experience and our dealers earn a significant profit delivering and deploying them. We're a terrific team with a great business and I'm excited to be a part of it." Bruno concludes.
About Rayva
Rayva is the world's first provider of complete, turnkey, engineered, home theaters of exceptional quality and performance.  Limited edition designs by world renowned artists curated by Theo Kalomirakis are unique to Rayva home theaters.  These designs, engineering, and acoustics make Rayva home theaters easy for integrators and home technology professionals to sell and install.  Rayva's customizable home theater solutions remove the barriers of complexity and the unknown to create an exceptional experience that brings families closer together through the magic of movies, sports, concerts, and video games.  Learn more at www.rayva.com and follow @RayvaHomeTheaters on Twitter, Facebook, and LinkedIn to stay up to date on the company and its offering.
Media Contact
For interviews or more information please contact Katye (McGregor) Bennett of KMB Communications by phoning (425) 328-8640 or emailing katye@kmbcomm.com.
All products, product names, trademarks and registrations mentioned are the property of their respective owners, all rights reserved.
Dec 06 2019
Case Study: BriarCliff Manor's 3-Day Theater
Elevated Integration installs a Rayva Origami dedicated home theater in Westchester in under a week.
It's been said that dedicated home theater is on the decline. Rayva argues that this is because it has traditionally been inefficient, inaccessible, and unapproachable to homeowners, architects, interior designers, and even integrators themselves. The company has also made it its mission to fix that.
Nick DeClemente, a 20-year industry veteran and Founder & CEO of Elevated Integration (Westchester County, NYC, the Hamptons) experienced this philosophy in action when, about 12 months ago, he embarked on one of the first Rayva theater installs. As a member of Azione Unlimited, Rayva was referred to fellow Azione member Elevated Integration, known for being a sophisticated and "high service" integration company in the way it operates, with a bespoke approach that was a good fit for Rayva.
The homeowner had already worked with Rayva executive director Theo Kalomirakis to select the Origami theater design and map out the level of performance and options that he wanted. Rayva brought Elevated Integration into the project to provide last-minute equipment recommendations for the theater and do the actual installation.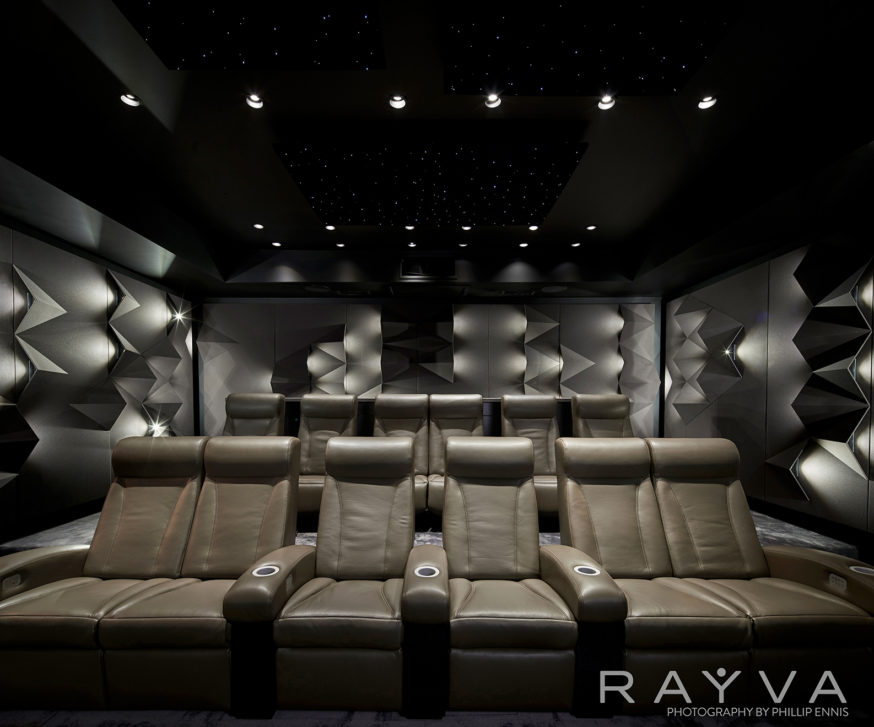 "Rayva really set the client's expectations to understand that we could not only do the theater and meet their high standards, but that we could also help with the rest of the client's needs," says Nick. "When I met the homeowner, we were then able to work under the assumption that we were doing the job of installing the rest of the technology in the home. Rayva created an opportunity not only to install the theater but to provide the technology solution for the rest of the house, which in this case was a totally new client!"
The home owner was excited about the potential for really high-performance audio and video throughout his home. "We installed three pairs of KEF Reference in-walls powered by Parasound Halo amplifiers, full 4K60 fiber distribution for video, and an INSANE 7.1 Coastal Source Elipsa Bollard 3's with five additional 14.0 subs and something in the neighborhood of 7000 watts around the pool," says Nick.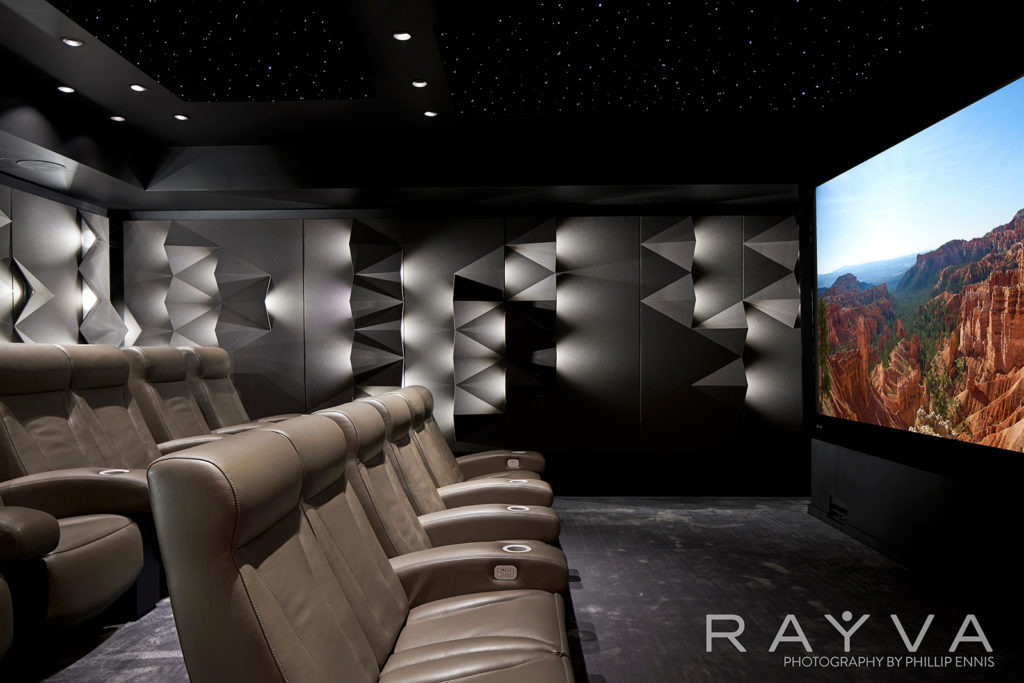 The system also included an extensive Lutron lighting system, plus automation and control by Savant. Sources including Savant Music 2.0, ROON, Kaleidescape, Tivo, and AppleTV, and a reference-level two-channel listening room. With the addition of the Rayva theater above the garage, Elevated Integration gave the homeowner a virtual technological playground with different areas to retreat for different purposes, whether it's watching a movie, listening to a record, background music throughout the house, or enjoying his favorite content outside by the pool.
"Rayva is getting opportunities that we wouldn't necessarily come across because it's a different stream. So our partnership with Rayva is producing projects that are profitable, ones that we would not have had if we had not been working with them," says Nick. "We in turn now put Rayva at the forefront of our pitch because they are supporting their dealers by bringing opportunities to us."
The biggest upsides of installing a Rayva theater, according to Nick, is that it's a packageable, predictable, profitable, and repeatable endeavor as compared to the dedicated home theater's of the past.
"Rayva delivers truly high-end results from both a performance and aesthetic perspective. The complexity that typically comes with a dedicated theater finished to the the level of a Rayva theater has pushed people away. I can now easily predict how long the next one is going to take. The process is predictable and repeatable. Those two things allow you to budget more tightly and accurately predict completion, which leads to a better experience by the client and more profit for us."
Acoustic and lighting panels are preconfigured and shipped onsite, then installed with ease. "Prefab lighting and acoustic panels come ready to go and are easy to hang. The complexity that it would take to build this stuff from scratch onsite is staggering, and what Rayva has done is spectacular. They have realized a level of sophistication and performance and made it attainable by guys that are not carpenters or builders . . . on a timeline that is unheard of." Indeed, this particular theater took less than a week to construct, install, and finish. Nick says that if his team was not so meticulous, it could be completed in as little as three days!
The acoustic and lighting panels are just one example of how Rayva makes installation easy. Nick also references the theater's starlight fiber optic ceiling. "I built one for my daughter's room from scratch. It's a cumbersome process to say the least, you have to deal with long fiber optic cables. Rayva's was as simple as hanging acoustic panels on the ceiling and connecting a CAT6 wire to the panel, and we were done. It's a total departure from how complicated they normally are."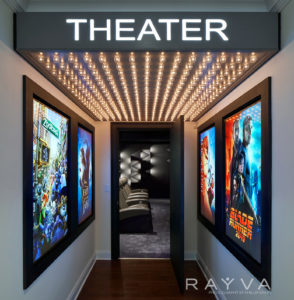 Because Rayva theaters are applied and don't involve a lot of construction to the shell of the room itself, it makes them good options for historic homes or homes where the owners are reluctant to alter the structure of the room. While this particular theater was installed in a newer part of a historic home, Nick says that if he was "going to put this in the historic part of the home, it would be no problem because everything is applied. Sound panels are applied and no special construction is needed."
In fact, that modular, applied approach allowed the homeowners to maintain the windows in the room. Rayva designed sound panels based on the window layout. The sound panels actually clip off the wall if access is needed to the windows and to ensure safe access to exits in the event of a fire. Traditional roller shades are installed on the other side of the panels, so it looks completely normal from the outside. One would never know what lies behind the shades—just what the homeowner had hoped for.
As one of Rayva's first installs, Nick and Elevated Integration helped Rayva with streamlining some of its early processes. He says that unlike some manufacturers in the industry, Rayva was absolutely willing and comfortable adjusting their process to better facilitate a smoother process and better end result. "For example, there were things they did originally, like specifying equipment, that they have now given back to the integrator realizing that it's a better business model for both them and the integrator. I give them huge credit for listening and responding to feedback."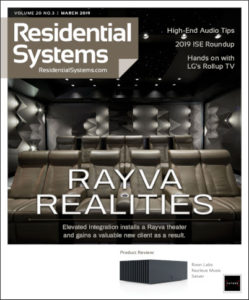 That fluidity has also allowed Rayva to develop, in conjunction with integrators like Elevated Integration, tools to help better suit the integrator. The Rayva Build Book, which is like a simplified instruction manual for installing the theater, "brings the level of the technician you have to have on-site down," according to Nick.
Elevated Integration is currently participating in Rayva's new Premiere Dealer program, which gives them access to special tools and marketing opportunities such as a co-branded version of Rayva's new online Configurator tool, which makes it easy to design a Rayva theater with the proper room specifications. Elevated Integration will use this tool to specify a new Rayva theater that's in the beginning stages.
How does the client feel about the project? According to Nick, he is incredibly happy. "It's really impressive what we were able to pull off."
Read more about this theater in the March 2019 issue of Residential Systems Magazine!
PUBLISHED IN RAYVA
Dec 06 2019
Origin Acoustics and Partners Present "The Rayva Experience" at CEDIA –Visitors can register to win over $100K in Gear!
CEDIA 2019, Denver, CO – August 23, 2019   Origin Acoustics and Rayva present The Rayva Experience at Booth #3837, with the generous assistance of AudioControl, AudioQuest, Fortress Seating, Nexus 21, and Screen Innovations.  Origin Acoustics has organized the Rayva Experience at CEDIA 2019 to promote simplicity and profitability in the Dedicated Home Theater Category.  This immersive theater experience demonstration includes seven chances to register to enter a raffle of over $100,000 in A/V gear to one lucky winner on Thursday, and another on Friday.
The Rayva Experience is a first-hand example of Rayva's completely pre-engineered home cinema solution. This is an amazing opportunity to see and hear how premium installed A/V equipment can transform a room, to see just how in-depth and easy an installation from Rayva can be, and to recapture just a bit of movie-watching magic.
Rayva combines state-of-the art technology by participating AV partners with its own proprietary designs, acoustic specifications, engineering and design accessories.  With Rayva, consumers enjoy movies, TV, video games, sports and music in turnkey, easy-to-use Home Entertainment environments.  Rayva's solutions make selling Home Entertainment easy and profitable for AV integrators and reward the consumer with outstanding entertainment value.
By visiting the Rayva Experience or any of the partner booths and completing a short demo, anyone can enter the raffle – that's up to seven different ways to enter and win. The raffles will take place Thursday and Friday at 4:30p.m. at Screen Innovations (booth #3338) where we will raffle off over $100,000 in Home Theater Equipment, including a full Atmos surround-sound loudspeaker system from Origin Acoustics, a SI screen, Fortress Seating, and more. One lucky winner each day, with the grand prize being drawn on Friday.
AudioControl, Booth 1813
AudioQuest, Booth 3530
Fortress Seating, Booth 4101
Nexus 21, Booth 3843
Origin Acoustics, Booth 3837
Screen Innovations, Booth 3338
Rayva, Booth 3837
All rights reserved. All brands and trade names are the property of their respective owners.
About Origin Acoustics – www.originacoustics.com
The Origin team has been responsible for inventions and innovations that have changed the face of the home entertainment industry. Inventions like the first in-wall speaker and the first aimable in-ceiling speaker are just the tip of the iceberg. Pushing the limits of technology and materials, this team has dominated the market for three decades and supplied loudspeakers to literally millions of homes around the world.
Today they have joined forces under the Origin banner to deliver the most advanced and impressive array of architectural loudspeakers ever available. With over 100 years of combined experience in the industry, they are dedicated to enhancing the lives of every person who chooses to install Origin loudspeakers in their home.
Origin Acoustics U.S. Contacts: Nick Berry +1 (844) 674-4461 or nick@originacoustics.com
International Sales Contact: Jose Coelho M: +44 (0) 775 411 4006 or jose@originacoustics.com
Origin Acoustics Media Contact:  Roberta Lewis M:+1 (713) 408-9401 or roberta@originacoustics.com
About Rayva  – www.rayva.com
Rayva is the world's first provider of complete, turnkey, engineered, home theaters of exceptional quality and performance. Limited-edition designs by world-renowned artists curated by Theo Kalomirakis are unique to Rayva. These designs, engineering, and acoustics make Rayva home theaters easy for integrators and home technology professionals to sell and install. Rayva's fully personalized solutions remove the barriers of complexity and the unknown to create an exceptional experience that brings people together through the magic of movies, sports, concerts, and video games.
Rayva Media Contact 
For interviews or more information about Rayva please contact Katye (McGregor) Bennett of KMB Communications by phoning (425) 328-8640 or emailing katye@kmbcomm.com. 
PUBLISHED IN RAYVA